Apparently the beauty industry has taken it upon itself to decide that makeup and star signs are extremely compatible!
---
Astrology seems to be something we're all obsessed with lately, but this definitely isn't a new thing – according to the American Federation of Astrologers (because that's a real thing), the Babylonians are generally credited with the birth of the "modern" zodiac (also called the "star sign" today) around 2800BC.  When Babylonian astrology was introduced to the Greeks in the early 4th century BC, it was regarded as a science, strengthened through the studies of Plato and Aristotle.  The Romans quickly embraced it, and the Roman names are what we use today.
The astrological timeline shows that the concept of astrology was created 5000BC – 3000BC with Vishnu (sun) being worshipped by Hindus as a symbol of life and associating certain god-like creations with each constellation.  In 3000BC – 300BC, the Egyptians combined astrology and religion, being the first to cast a birth chart and designating gods for each month.  You may recognize some of the names they used for stars, such as The Maiden (Virgo) or The Bull (Taurus).
At the same time of the zodiac, the Chinese were also developing their version of astrology wherein there are 12 years and each year is represented by an animal, as well as five elements that represent positive and negative (yin and yang).  While Western astrology relies on the sun, Chinese astrology relies on the moon.
In 63BC – 14AD, astrology became common practice with the Roman ruler Augustus creating coins adorned with his astrological sign, which was Capricorn, but with the fall of Rome in 378AD – 476AD and the Renaissance in 1101 – 1200, as well as the Age of Enlightenment in 1650 – 1815, astrology largely fell out of practice, mostly due to the separation of astrology from science and the preference of the latter.  It wasn't until the 20th century and the New Age Movement of the 60's that astrology gained ground again.
Fast forward to today, when Western culture has apparently seen a renaissance in terms of Zodiac astrology. From the trashy magazines we loved in the early 2000s that allowed us to check our sign's compatibility with our crush's sign to the diffusion of such memes as the 2011 "The Signs As…", which launched into popularity in 2014, it's obvious that the Zodiac is back in fashion.  So much so, in fact, that brands in the beauty industry have noticed and acted accordingly.
1.) Morphe // 12Z Zodiac Palette (? 2015)
I actually had no idea this palette actually existed, but apparently Morphe came out with a Zodiac palette in 2015.  This palette, which has since been discontinued, contained 12 shades and I think retailed for around $15.  The strange thing about this palette (other than me having no recollection of ever seeing this) is that while the name calls out the Zodiac, it doesn't seem like any of the shadows had names, leaving the consumer to guess which shadow aligns with which sign.  Huh.
If you're curious, you can see swatches of this palette by MakeupByDianis on YouTube as seen in the screen grab above!
2.) BH Cosmetics // Zodiac palette (November 13, 2017)
Forget Morphe – when I think of the OG Zodiac-themed eyeshadow palette, this palette by BH Cosmetics is the palette I think of.  Retailing for $24, this palette has 25 shades, including baked shadows, matte pressed shadows, and a highlighter, and the layout reminds me of a sundial.  I've seen tons of beautubers reviewing this palette, such as RawBeautyKristi, Kayla Hagey, and Thataylaa, and as far as I could tell, the sentiments were generally positive.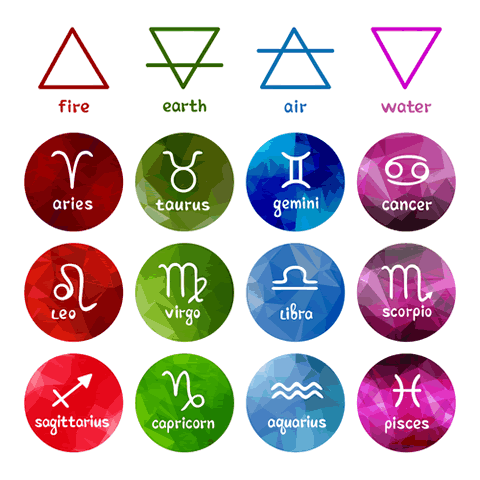 The thing that confuses me about this palette, which some of the beautubers also commented on, is that the shade pairings for the Zodiac seem a little bit… untraditional.  For example, if you look at Pisces (which is what I am, BTW!), it consists of neutral brown shades, which seems strange considering that Pisces is a water sign (it's literally a fish), so the "traditional" colors are more blue and this color palette looks more aligned with the Earth signs (Taurus, Capricorn, and Virgo).  Furthermore, Scorpio, which is also a water sign, is more red-toned in this palette, making think more of a fire sign, while Sagittarius, a fire sign, has a green/terracotta shadow combo, making me think more of a earth sign.
Regardless, this palette is pretty versatile, although I haven't tried it myself, the formula is apparently pretty decent for the price you pay.
3.) Bite Beauty // Astrology Lipstick (January 2018 – Present)
In January 2018, Bite Beauty announced it would be releasing new lipstick shades in their Amuse Bouche formula every month (for $26) based on the star sign for that month.  Starting with Aquarius, they've also released Pisces, Aries, Taurus, Gemini, and Cancer, the most recent.  According to their Instagrams, the descriptions for each shade are as follows:
Aquarius – "Aquarius is the sign of inventors, pioneers, radicals — for cutting-edge, social, and creative Aquarians, we imagined a reinvented classic: a bright, modern berry, perfect for standing out in group selfies."
Pisces – "Pisces is the sign of artists and dreamy creative types. For mystical, go-with-the-flow Pisces, we remixed neutral with this pitch-perfect peach."
Aries – "Aries is the energetic sign of winners and wonder women, those who want to be noticed and take charge, with an all-or-nothing attitude. For bold Aries, #bitebeauty mixes up a shade that's in-your-face."
Taurus – "For Taurus, we present a muted rose that's sensuous but strong."
Gemini – "It's GEMINI SEASON and we are HERE for it ♊️ For Geminis who embrace duality, and love to have fun — this unique two-toned bullet promises infinity ways to wear."
Cancer – "Cancers are among the most nurturing, caring signs of the zodiac. For loving, yet mysterious Cancer, we created a go-to, sultry neutral."
At first, I had the same sentiments looking at this shades as I did with the BH Cosmetics palette in that they didn't make sense to me – why was the Pisces shade here peach instead of some shade of blue??? However, after reading the descriptions, things made much more sense to me, and I appreciate the logic behind it all.  I think this is where the BH Cosmetics palette kind of dropped the ball – while Bite provided the thought behind the shade selection, BH just kind of left it all on the table, and had they also provided more explanation, the shade pairings in the palette might not have been as questioned.
4.)  Wet n Wild // Zodiac LE Collection (July 17, 2018)
On July 11, TRENDMOOD reported that Wet n Wild was coming out with a new Zodiac-themed collection, including four highlighting bars, four eyeshadow palettes, 12 glosses, and a loose highlighting powder that would be exclusive to Walmart.  This collection officially dropped on July 17.
I actually haven't watched too many videos on this, but I did check out a video by Kayla Hagey (I really like her swatch videos) and you can see screen grabs from her video above!
5.) Colourpop // KathleenLights Zodiac Collection (July 26, 2018)
The most recent Zodiac-themed collection was a collab between KathleenLights and Colourpop that was announced by Kathleen on July 20 and released online on July 26, which includes the Zodiac palette, two lux lipsticks, two super shock highlighters, and two supernova shadows.
In her original launch video, Kathleen spoke about each product and even gave a breakdown for the eyeshadow palette on each sign and why she chose the color she chose.  That video was just over 35 minutes long so I haven't watched it yet, but anybody who has watched Kathleen before knows that she's been obsessed with all things Zodiac for awhile now – in December 2015, she released the Aquarius and Taurus lippie stix and matching liners as part of her now-discontinued Where the Night is Collection (Kathleen is an Aquarius and her husband is a Taurus).
I actually ended up purchasing the eyeshadow palette for $18 because I loved the range of shades from the warm-toned oranges and golds to the plums to the blues and I can appreciate all of the thought Kathleen put into matching the colors to the signs:
The Aries: This metallic firey orange is as bold as your confidence
The Taurus: You can rely on this matte camel brown, uh huh!
The Gemini: Express yourself in this metallic antique gold
The Cancer: This soft peachy pink with a golden sheen feels like home
The Leo: This soft coral with a gold flip is sure to grab your attention
The Virgo: You'll wear this matte dark chocolate brown with practically every look
The Libra: This matte light dusty rose brings balance to any look
The Scorpio: Share your passion with this rich metallic plum
The Sagittarius: Up for an adventure? Try this matte magenta purple
The Capricorn: Shoot for the stars with this black with gold glitter
The Aquarius: This matte periwinkle blue will unleash your creativity
The Pisces: Be a daydream believer in this vibrant metallic aqua
While The Pisces may be a little too out there for this Pisces, it's a really pretty shade that I hope to be able to use if I channel my more adventurous Aries.
What's Next?
Whether you're into star signs or not, these Zodiac palettes are really fun and I happen to like the concept of them.  I'm not super into the Zodiac myself, but a fun fact is that I'm a Pisces who mostly self-identifies as an Aries.  It wasn't until 2015 that I even believed I was remotely a Pisces at all when I ended up bursting into tears while watching Big Hero 6.  I mostly credit that movie as being part of my Pisces awakening, but that's another story.  Regardless, despite all this, whenever I hear "Zodiac," I think of the iconic moment from the bad lip reading of Game of Thrones at 4:26 – "he was a Capricorn!" Anybody else?? Anybody??
Oh yeah, and here's something worth mentioning – as recently as 2016, the Zodiac has actually been updated, introducing a 13th sign (Ophiucus) that shifted the dates of the previous 12.  You'll notice that none of these palettes refer to this 13th sign at all because I'm pretty sure everybody ignores this – myself included.
In terms of "What's Next?" while I like this concept, I do recognize that it's going to get pretty old soon.  If another brand decides to come out with a star sign-themed Zodiac collection, I think that might flip the switch from being a trend I love to one that I'm tired of.  Moving forward, I would like to see more Western collections focused on the Chinese zodiac as I think stars have been really played out.  I know MAC came out with a Lunar New Year collection in January 2017, but other than that, I really haven't heard of many brands covering this theme.  I could see color palettes based on these animals being really interesting, plus if done correctly, I think this is a great chance to learn more about this culture and appreciate it.
What do you think of the star sign-themed Zodiac collections… and what's your sign? 😉
---
SOURCES
VIDEOS MENTIONED
---
LET'S BE FRIENDS! | Instagram | Twitter | Facebook | LinkedIn | Bloglovin
---
*Disclaimer: I am not affiliated with or compensated by any of the brands mentioned (I wish!).  As always, all thoughts & opinions are my own (unless stated otherwise)!