"Let's go to the beach, each. Let's go get away." #classic
---
It's been a hot & humid minute since I've posted anything remotely travel-related, which is really saying something considering I've been living abroad in Italy for the past two years, but now that my watch has ended, I thought maybe it's about time I start speaking about it!
About a month ago after finishing my second thesis, a friend and I took a trip to Rimini, which is one of the most famous seaside getaways in Italy.  It's basically the southeastern tip of Emilia-Romagna (which is also the region I've been living in) and faces the Adriatic sea.  The first beach (or "bagno," as you'll see on a map) opened in 1843 and its 1,000 hotels make up 1/4 of all the hotels in the region.
I honestly didn't get to really walk around the city that much since I was only there for a short amount of time, which is unfortunate because from my walk from the train station to the beach, it looked really cute! The city was filled with typical pastel pink and yellow buildings that Piacenza also seems rather fond of.
The trip itself was kind of a last-minute thing that we put together the Monday before the Saturday we left, but it was fairly simple to do and relatively speaking, not all too expensive.  A train ticket to Rimini from Piacenza and the other way back was about €19.50 per way and took around 3 hours – it was convenient that it's in the same region as I live in because that meant that I just had to stay on one train and take it all the way down to the coast.  I was able to leave at 8:15AM on Saturday and get there at 11:35 and then take another train back at 3:15 on Sunday and get back by 6:30PM, which made it a nice little overnight trip.
If you don't speak much Italian, basically everybody in Rimini speaks English given the fact that it's such a hot spot for tourists, so you shouldn't have to worry about getting by.  In any case, here's the lowdown on the whole situation:
1.) The Beaches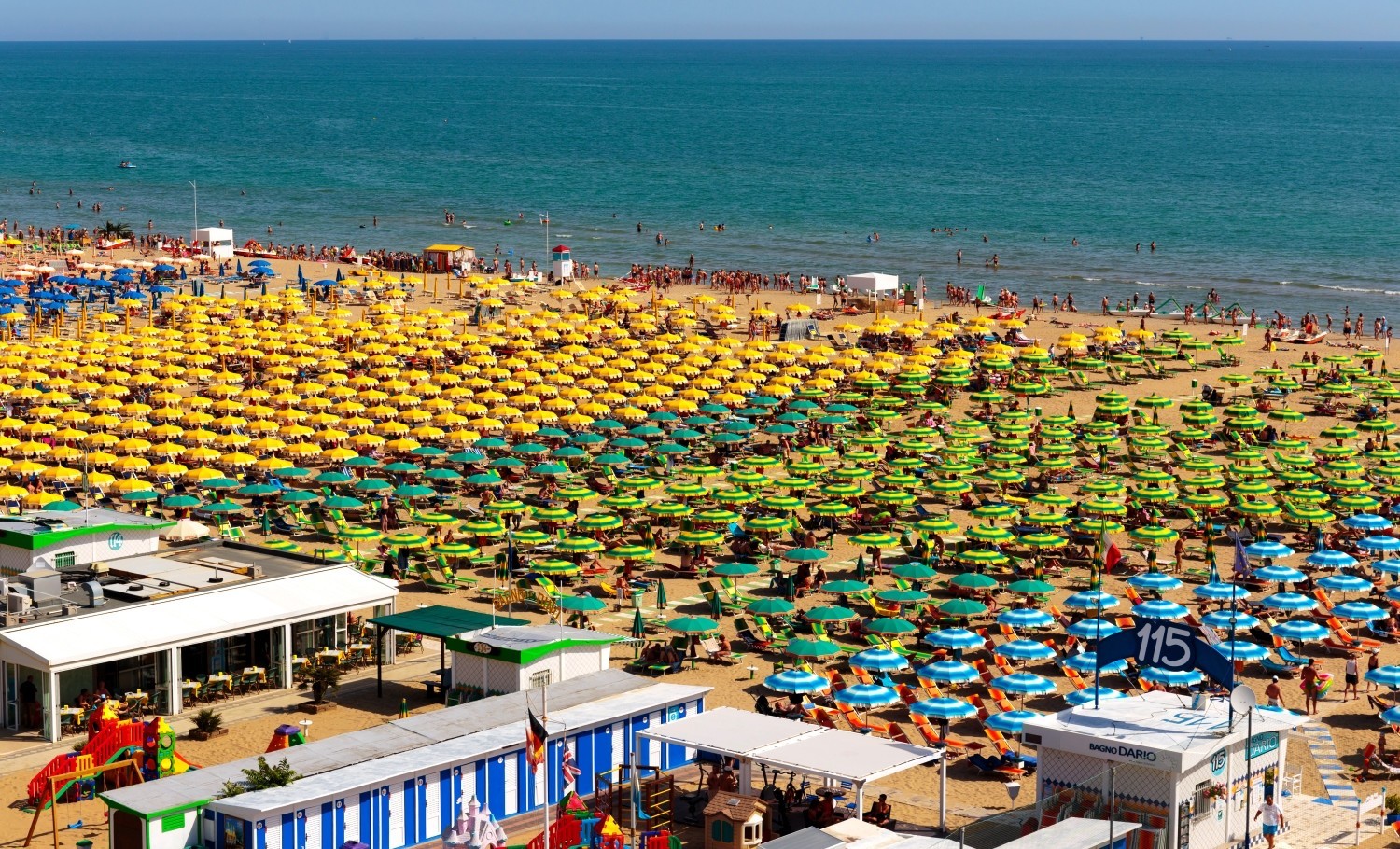 Rimini has 9 miles of sandy beaches, which may seem tiny compared to the 141 miles of oceanfront we have in New Jersey, but Rimini is still one of the most popular destinations along the Adriatic.  I will say that I do think the quality of the establishments is much better than what you get at The Shore, but I'll get more into that in a bit.
If you're not looking to pay for anything, there are some public beaches, but the majority of the ones you'll find are private.  In general, you pay for a spot that has an umbrella and two chairs.  The private beaches are sectioned off and the closer you are to the water, the more expensive the spots get.  All of the beaches are numbered and some have "nicknames," which you'll see if you look at Google maps.
We went to Bagno 55, which is in the Piazzale Pascoli area (beaches 49-67) both days because it was the closest to where we stayed.  I'm pretty sure you can walk up to the beach and pay at the check-in desk, but we booked online instead using this website because I wasn't sure if the beach could "fill up" or not.  I actually found it much more convenient to book online because the website gives you a layout of where all of the free and taken umbrellas are in relation to the water.  We booked umbrella 108*, which is in the section that allows dogs (as noted by the asterisk, something I realized after actually being on the beach itself because the website doesn't specify this) and the total cost was €29 for two lounge chairs and an umbrella for two days.  Since there were two of us, we just split the cost.
If you choose to book online, you get an email that confirms your reservation – make sure to check your spam/junk folder because that's where my email went for some reason!  When you're on the beach itself, look for a sign that says "check-in" and all you have to do is show them the email and someone will usually lead you to your umbrella and chairs.  One of the really cool things about the umbrellas that may not be as cool as I'm making it seem is that there's a little table in the middle of it to stick things like your phone or sunscreen and on the top by the spokes there are hooks to hang your bags from.  I got really excited about this, but it's ok if you don't.  Really, it's fine.
Depending on what you're looking for, you may want to pay closer attention to the amenities as they vary per beach.  Since all we really wanted was a place to sit and access to the ocean, we didn't pay too much regard to what our beach had to offer, but you can look online at specific beaches in case you need services such as a daycare for your kids.  When you pay for a spot on a private beach, you essentially become a "patron" and are entitled to these services, which is really cool.  Our beach had lifeguards on duty and things like volleyball and hot tubs and a play area for children, as well as the standard bathrooms, changing rooms, showers, and lockers that I think you can find on all private beaches on the coast.
If you walk up and down the beach, you actually can find some little tiki bars close to the water that sell cocktails and such.  Up by the land near where you check in, most beaches also have little "bars" that sell water, ice cream, sandwiches, and brioche.  This comes in handy if you want to get to the beach early because you can grab a pastry and sit right in your chair if you so desire.
If all you're looking to do is look at the water or take a dip and you don't have any stuff, there's actually a law that mandates that all the paid beach establishments must allow a 5-meter strip of free access to the sea and bathing area called "la battigia," so you can technically walk through any establishment without paying anything, but you can't put anything down or camp out in that zone.
2.) The Hotels
As I said before, Rimini has around 1,000 hotels and 300 of them are open all year, which is probably why it's notorious for being so lit.  Most hotels seem to have arrangements with the private beaches that they're near, so if you're looking to book a hotel, you should check to see if an umbrella on the beach is included in your reservation.  Prices seem to range from €31 to €130 per night, depending on how close to the beach you are and how many stars the hotel has.
If you want a more budget-friendly option, you might want to try looking into hostels.  The one that I kept seeing come up in searches was Jammin Hostel Rimini, which is €38 per night and is rated 8.9 stars.
Instead of a hotel or hostel, we actually decided to go the Airbnb route since that was our cheapest option at €31 for one night.  We ended up booking a private room in a shared apartment with a woman named Anna, who was really sweet and has lived in the apartment for 60 years.  The room itself had a double and a single bed, a balcony, and a private bathroom, and was perfect for our stay! The apartment was really clean and was about a 6-minute walk to the beach and a 20-minute walk from the train station, so it worked out really well.  If you're interested in staying here, one thing to note is that Anna only speaks Italian, which wasn't really a problem for me, but other reviews have said that although the reviewers only spoke English, they were still able to communicate with her fine.
3.) The Food
If we're being honest, Rimini's whole seafood thing was definitely not my thing since I stay the hell away from all things that have ever come out of the ocean, but I did see that there were a lot of pizza and burgers all over the place.  Since Rimini is in Emilia-Romagna, you'll also find that a lot of restaurants make piadina, which is what I've been surviving on for the past two years because it's DELICIOUS.  It's basically a flat bread that's considered traditional to the region and can be filled with anything you want – my favorite piadina is one with crudo, mozzarella, rucola, e pomodoro (prosciutto, mozzarella, arugula, and tomato), but I've also had dessert ones filled with nutella and bananas in the past that were pretty good.
I think Rimini may be better known for the drinks, given its status as a party town and overall good time.  As I said before, you can find tiki bars on the beach themselves, so drinks seem to be poured in abundance here.  My friend and I basically ate every meal at Barrumba since it was right across from the beach and it had really good piadina, burgers, and cocktails.  My favorite cocktail was a frozen daiquri that was both really refreshing and really strong.
If you're easing into the alcohol or not looking to have any at all (#respect), I recommend that you try to find an Estathé alla Pesca, which is a peach iced tea made by the brand Estathé.  This specific peach tea + my usual piadina is basically my holy grail when it comes to lunch in Emilia-Romagna.  Like… if I could boil down two years of living abroad in Italy into one concept, it would be my love affair with Estathè alla pesca and a piadina.  I know this sounds really strange, but we're basically three corners of a love triangle that makes up the greatest love story ever told.  #stillabetterlovestorythantwilight
Also, people will fight me on this and say that the limone (lemon) is better, but I'm a peach gal.  Unfortunately, Barrumba only had Lipton iced teas, but I will go to my grave saying that Estathé is THE BEST iced tea brand and peach is THE BEST iced tea flavor.  Period.
I know I'm rambling again (we all knew it was bound to happen at some point), but you might also need to ask specifically for ice (ghiaccio) and a straw (una cannuccia) as something I've learned in my two years abroad is that Italians don't typically give this to you automatically unless you ask.
4.) The Nightlife
I would love to recount some crazy story about clubbing in Rimini, but I'm a tad bit embarrassed to report that my friend I were exhausted after being on the beach all day and sharing a particularly strong pitcher of sangria at Barrumba during dinner (tragic, I know) so we basically went back to our Airbnb after dinner and were in bed by 11:00PM.  This is a little sad given that as I keep saying, Rimini is known for its nightlife.
According to this website, Rimini has probably the highest number of night clubs in Italy.  It also says:
Entry fee to popular night clubs vary from 10 to 20 euros, and the price usually includes a welcome drink. Costs of additional drinks are in the range of 5 to 10 euros, and "shots" are about 3 euros. More detailed information is available on the websites of night clubs, along with photos and other useful information.
If you don't really feel like clubbing and paying an entry fee, you can always walk up and down the strip and just go to one of the restaurants as basically all of them have outdoor seating areas and bars to drink at.  Again, if you go to Barrumba, I highly recommend getting a frozen daiquiri and some of that sangria.
All in all – Rimini is a good time! Make sure you pack your sunscreen.  Oh, and stay hydrated before you… get hydrated.
---
LET'S BE FRIENDS! | Instagram | Twitter | Facebook | LinkedIn | Bloglovin