Still trendy, "No Makeup" makeup isn't always what its name implies – often, beauty gurus somehow use multiple high-end products to give the illusion of not wearing makeup.  However; whether you want to save time or are just plain lazy, no makeup makeup doesn't always have to be expensive OR over-the-top.
---
Within the past three years or so, "No Makeup" makeup is a trend that's been, well, pretty trendy.  A quick look at Google Trends shows that the search term "No Makeup Makeup" peaked in September 2016, just a few months after Alicia Keys spoke about embracing no makeup in her Lenny essay titled "Alicia Keys: Time to Uncover."
Is there a correlation here? Maybe… but regardless of from where or how this trend came to be, many beauty gurus have been hopping on the bandwagon.  Searching "No Makeup Makeup" on YouTube yields about 43 MILLION results, so it's definitely not hard to find a tutorial out there on how to perfectly achieve this ~no makeup~ makeup look.
Something that I personally find quite strange is the fact that many of these tutorials, while dubbed "No Makeup Makeup," tend to actually use quite a ton of makeup products in them.  Somehow, these people are talented enough to make a lot of makeup look like natural skin, which is a talent I do not possess nor do I have time for.
If I'm going to be ~honest~ here, if I personally am going to take all that time to put makeup on, I want it to look like I have makeup on.  I'm not tryna bash these tutorials or people who like this kind of thing in any way, shape, or form because I know we all have different makeup preferences and reasons for wearing makeup, but my personal definition of "No Makeup Makeup" is the kind of makeup you do when you can't be bothered to spend more than five minutes on it and literally just want to look like you haven't just woken up from a 100 year slumber that somehow simultaneously was the worst sleep in your life.
Fortunately, brands like MILK MAKEUP have come out with some cool products that are meant to multitask for a no makeup makeup look closer to my personal definition.  Unfortunately, some of these products are a little bit pricey for my liking.
Luckily, the drugstore is a thing.  If you don't want to shell out too much $$$ or time, here are some of my favorite products and tips to nailing a no makeup makeup look that truly does not contain that much makeup!
1.) Moisturize
I'm no expert, but I think the first part of any makeup routine should be to moisturize your skin! Moisturized skin looks a lot better than dry, flaky skin, and when the whole point of this look is to wear as little makeup as possible, you're gonna wanna do yourself a favor and help yourself out a bit by putting on some moisturizer so at least you'll have that base covered.
My favorite moisturizer (as seen in my Summer Skincare Tips) is the Simple Protecting Light Moisturizer ($9.99).  Not only is hydrating while not being too heavy, but it has the added benefit of SPF 15.
2.) Skip the Foundation
The foundation of this look is no foundation – oh, the irony! Not only does foregoing foundation save you time in terms of blending it out and setting it and whatnot, but it also makes the look a lot more natural, which is what we're kind of going for here.
I personally hate wearing foundation especially in the summer months when I would just sweat it off anyway, but I also luckily have pretty good skin.  If you need or want a bit of coverage for whatever reason, try to stick to something a little less matte and a little more lightweight.  On the occasion where I myself want a lil more sumpin' sumpin' on my skin, I like the Almay Smart Shade Skin Tone Matching Makeup in Light/Medium ($13.99).  I think this product is really cool because it looks like a regular white moisturizer at first, yet adjusts to your skintone when you rub it in with your hands.  You can slap this on pretty quick without the need to set it and it's basically undetectable, so it's a win-win in my mind!
Another way to add coverage without it looking like you added coverage is to just spot conceal.  Instead of putting foundation on to cover a few areas, maybe you just want to pop some concealer on those areas and call it a day!  I really like the Maybelline Fit Me Concealer in Sand ($6.99) to do the job because it gives decent coverage without it looking too thick.
3.) Look Alive!
The entire purpose of putting makeup on in the first place for this "no makeup makeup" is to make it seem like you're not dead, of which the opposite would be to look alive.  There are a lot of ways to do so, which I will be sharing below – you can use as many or as few of these options as you like!
The first way to look more alive is to look more awake, which can be done by either getting more sleep (yeah, right) or taking the easy way out and concealing any dark spots under your eyes.  No matter how much sleep I get, I seem to always have dark spots, which is a look that I unfortunately do not pull off very well.  To combat these bags, my all-time favorite holy grail concealer is the Maybelline Instant Age Rewind Eraser Dark Circle Treatment Concealer in the Neutralizer shade ($8.99) because it blends like a dream and covers my dark circles without it looking like I have anything on underneath my eyes! #amazing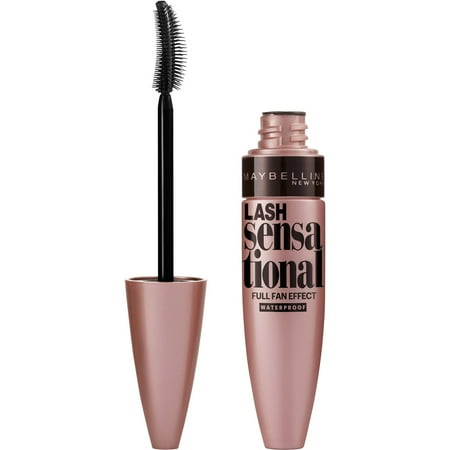 The next way to look more awake is to open up your eyes not only literally, but by applying some mascara to curled lashes.  My favorite mascara of the moment (as seen in my June Favorites post) is the Maybelline Lash Sensational Waterproof Mascara ($8.99).  This mascara holds a curl really well and doesn't flake or smudge, which is really good if you're a contact-wearer like I am or just a member of human race, which I also am.  I mean you could also be some kind of alien too and I guess the whole no-budging property of this mascara would also benefit you, but now I'm just getting off-topic here.
You can also look more awake via some kind of light, peachy-pink eyeliner in the waterline.  I've seen lots of tips about using a white eyeliner in the waterline, which would also work, but I find that this looks a tad crazy on me.  Instead this Exaggerate Waterproof Eye Definer by Rimmel London ($6.99) looks a lot less cartoon-ish.
Another way to look alive in general is by giving your skin that ~healthy sun-kissed glow~ that I am seemingly only able to achieve via the use of bronzer.  I've spoken about this bronzer many a time before, but I have been loooving the Physicians Formula Butter Bronzer Murumuru Butter Bronzer ($14.99) not only for its repetitive name (jokes), but because it's super buttery, gives a really natural, healthy glow, and smells like paradise.  If you don't believe me and want to read a full review, I actually did one, so read on up!
If you want a general glow, you can also go in the highlight direction! To keep this as natural as possible, I would caution against highlighters with glitter and stick with highlighters that are more glowy.  I recently re-discovered the E.L.F. Cosmetics Baked Highlighter in Moonlight Pearls ($4.00) and love that it's glowy without being over-the-top.  The reason why I say "re-discovered" is because I actually had it awhile ago and give it away because it wasn't really doing anything – it felt scratchy and dry and didn't give off any product whatsoever! – until I discovered the little "secret" tip to getting this highlighter to act to its full potential: just scrape off the very top layer and you should be good to go! I picked up a new one from the store, scraped off the top layer with a very fine-grit disposable nail file I had laying around, and voila, it gave me the natural glow I've always dreamed of! 10/10 would recommend
Finally to complete the ~alive~ look, you could also add some blush to your face.  When I say "some," I mean some – anything too bold or bright might look a bit garish, especially if you actually skipped the foundation like I really do.  This Physicans Formula Mineral Wear Talc-Free Mineral Airbrushing Pressed Blush ($11.99), appropriately in the shade "natural," is a soft pink that makes it look like I just went on a light jog, which I never do, so the illusion is really nice.  Instead of being powdery, it sits on bare skin well and looks very natural, as the shade name would imply.
4.) Keep it Subtle on the Lips & Brows

As much as I love my bright red lipsticks, I will begrudgingly acknowledge that they don't look very natural.  Sometimes when I'm not wearing any makeup at all I'll just pop a bright lipstick on and call it a day, but today isn't that day because that's not the look we're going for!!
On my no makeup makeup days (how many times have I said "no makeup makeup" at this point??) I like to rock a more subtle lip, whether that be by wearing no lipstick at all, or something more sheer.
If I'm choosing to wear no lipstick, I'll always have a balm on anyway.  After washing and moisturizing my face, my second step every single day is to always put lip balm on because chapped lips are a nightmare and a hard road I don't want to have to go down.  My favorite lip balm is the Burt's Bees Pomegranate Lip Balm ($3.30) because it's super nourishing and layers underneath lipstick really well.  I find that some heavier or more waxy balms make it really hard to put lipstick on top of, but this balm is great because it provides a smooth base without messing with the lipstick at all.
For more of a ~tint,~ I like these two other routes: Milani has a really cool line of lip oils called the Moisture Lock Oil Infused Lip Treatment ($8.00).  Most of them are clear, such as the Moisturizing Almost Coco one I like to put on right before bed, but the shade Protecting Pomegranate gives a hint of a tint to its shine.  For
For a more matte look, Colourpop has a line of Ultra Blotted Lips "for that soft, diffused just-blotted look" and are all medium-coverage.  The shade Doozy ($6.00) made an appearance in my June Favorites because it's my perfect my-lips-but-better shade and helps to brighten my face overall.
I also will say that I am not a brow gal at all – I only ever really do my eyebrows if I'm going somewhere important, and even then I don't do the full-on brow routine I see many people doing.  If you are a brow gal or guy and absolutely must do something to them, try to keep it under wraps! Instagram brows or blocked off brows would probably look a little out of place when you're trying to look like you're not wearing any makeup at all.
If I do ever take the time to do my brows, I like to just run through them with this L'Oreal Brow Stylist Plumper Brow Gel Mascara in the Medium to Dark shade ($9.99) This has little fibers in it to make your brows look more full without looking too crazy and also has a nice tint to it.  I mainly just like the fact that it keeps my eyebrows in place and looking a little more ~tidy~.
5.) Multi-tasking Products = Friends
Another way to save time (& money) is to pick products that can double (or maybe even triple) as something else! For example, if you want to throw some eyeshadow into your no makeup makeup look, you could easily use your bronzer all over your lid for a simple monotone look, or in your crease to give your eyes more depth.  You could also easily use your highlighter on the inner corners of your eyes for more brightness, all over the lid for a brighter look, or even on your brow bone to make your eyebrows look more arched.
There are tons of other products out there that can help you cut corners – for example, the Milani Baked Blush in Luminoso ($8.00) can be used simultaneously as a blush AND as a highlighter.  Sometimes when I'm feeling extra lazy and can't be bothered to pick two separate products out, I'll literally just take this all over my cheeks and cheekbones in a wider area than I would normally place blush because it gives the same effect as if I just blended my blush and highlight together.
Another product that I like for multitasking is the Wet n Wild MegaGlo Cheek & Lip Tint ($4.99 $2.49) in Kiss Me If You Can.  This is a sheer, but buildable pink that can be used as blush or on your lips.  I like this because it's lightweight and can be applied either with a blush, directly on your face, or with a finger (my preferred application method), so it can save a lot of time in the morning.
And there you have it, folks! No makeup makeup (last time, I promise) that actually looks like you're not wearing any and that doesn't break the bank! What are your favorite no makeup makeup (oops, guess I lied) tips?
---
LET'S BE FRIENDS! | Instagram | Tumblr | Pinterest | Twitter | Facebook | Bloglovin
---
*Disclaimer: I purchased all above product(s) with my own money and am not affiliated with or compensated by any of the brands mentioned (I wish!).  As always, all thoughts & opinions are my own (unless stated otherwise)!